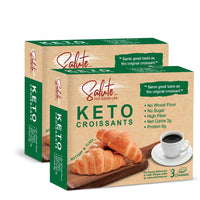 Keto Croissants Special Bundle
Dhs. 35.00 Dhs. 50.00(Inclusive Of Tax)


Salute Keto Croissants, bursting with a great buttery and flaky taste.
Each croissant boasts high fiber, containing only one gram of net carbs and five grams of protein, no sugar added, and mimics the look and taste of the best French croissants.
These delicious keto-friendly croissants were baked into perfection to ensure those following the ketogenic diet or in a weight loss diet will never have to relinquish their croissant cravings again. And more specifically, reducing that daily carbohydrate absorption as these are low-carb croissants and something any fitness or health-conscious individual or everyone can have at any time, anywhere, while keeping the indulgence factor at the forefront.